It's no secret that our websites need to work on mobile devices, right?
And you might have a nice website theme. It might be responsive and look awesome.
But is that enough?
This is dominating my thoughts because I just read a report that said Home Depot's website received more mobile traffic than desktop.
And that got me thinking about how this shift might impact infopreneurs. In the not too distant future, our businesses will depend on mobile traffic. To support that claim, I stumbled across an interesting statistic while researching this blog post:
Mobile phones influenced more than $1 trillion in U.S. offline retail sales in 2016, and 65% of U.S. adult smartphone owners researched products on their smartphones in the past three months.
So we can't ignore mobile, and a responsive theme might not be enough.
Some retailers have released apps that enhance user experience, but I have a problem with that approach because it's not practical for small businesses.
Sure, if you're a well known brand then a percentage of your customers might be willing to download yours.
But for smaller sites, we can't expect people to install apps just to have a good user experience. So we gotta meet them on their own turf and improve our sites.
Beyond responsive design
According to a study by Forrester Research, Home Depot provides the best mobile experience of all retailers. So immediately, it'a already set itself part from everybody else.
So what can we learn from them?
Firstly, the speed of their mobile version is impressive. They're using cloud based technology so the website loads quickly.
Next, they've managed to segment their customer base – this provides a better user experience by increasing the relevance of the content.
And they've also embraced voice search. With these three major developments, they have managed to dramatically improve the overall usability of their website.
That's having a direct impact on the companies profits.
So what can you do?
Moving your site to a cloud based hosting environment is not only good for the end user, it's also a smart move for SEO.
Google and other search engines use page speed as a signal to determine ranking.
As soon as I figure out how to run WordPress on Amazon AWS, I'm moving all my sites to the cloud.
Amazon AWS isn't the only option, but it's the one I'm holding out for.
Next is voice search.
This is something we should all be aware of. The amount of voice searches is growing each year, and with all those smart speaker devices like Amazon's Alexa and Google's Home, it looks set to increase.
Take a look at this: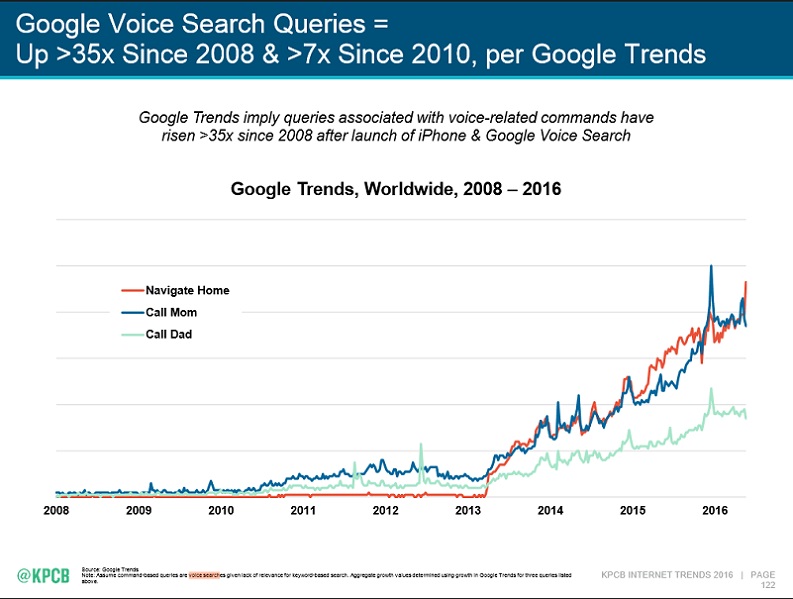 Thankfully, if you're already following SEO best practises then you're all set.
But what about adding voice search to your site?
If you're using WordPress then you might be in luck. There are a few plugins available, but I'm not entirely sure if any are ready for prime time just yet.
This might be something to keep an eye for the future.
And now for my favourite bit; segmentation.
Most of us are already segmenting our email lists. Usually when someone buys a product, they are seamlessly moved onto the 'buyers only' email list.
These guys get the REALLY good stuff, and are treated like royalty.
But we can take segmentation further, and in my own way, I do it on Profit Copilot too.
One of the ways I do it here, is to display a different navigation system depending on how you use the website.
If you visit the site and it recognises you as a member, you'll have more options in the nav bar. But if you're not a member, you'll only see the basic stuff.
And for that, I use a plugin called If Menu. It's a little technical to use, but it's very powerful.
But for now I hope you've got some ideas or inspiration.