Choosing the right affiliate products to promote and sell can be a minefield, so today you're going to learn how to do it right – the first time.
Previously we talked about how to structure an affiliate marketing business without a website, how to choose a niche, and today you're going to learn how to choose the right affiliate offers to promote so you know that you're going to make money.
But first, you can't just dive in and promote random offers.
Before You Promote Affiliate Products
We need to have a specific criteria to work with, and the criteria I recommend following goes like this. You need to choose offers that are relevant to your sub niche.
We want our offers to be relevant to the sub niche and the pain points/struggles that your customers will have.
Your offer needs to solve their problem. In doing so it will provide enormous value to the customer which is the next criteria.
We always put the needs of our customers first above our own. That way we know we are only recommending products that are going to deliver value and genuinely help them solve their problem.
Affiliate Product Criteria
We also need to pick a product that is good for you so it has a decent commission structure. The next criteria we need to check is market demand.
To do this we can go to Google Trends or any keyword search tool. You can use these to reveal the market demand for your products.
We also need to make sure that the product is being sold by a respectable vendor.
We make sure that this is the case because we don't want to promote a product and then for something to happen like the vendor vanishing overnight. The emphasis on most of these criteria is that the customer has what they need and then we think about ourselves secondly.
Using Google Trends
Let's go to Google Trends and run an experiment.
When we're talking about market demand there's a really nice way of figuring out if there are buyers in your niche. For example, let's say you are in the weight loss niche.
Search it up in Google Trends and look at the trend over time. We can see that it is fairly consistent.
This is not search volume, it is search relative to whatever else other people are searching on the Internet.
If we compare it to something like Netflix now we can see that there are a lot more people interested in Netflix than losing weight. Bear that in mind because the search results are all relative and not actual search volume.
This is not about keyword volume or search volume.
There are a few ways to see if people are going to buy products specifically information products in your niche. We can type something into Google Trends like weight loss books because people are going to spend money on a book.
We can see that interest is pretty consistent with some bouncing around throughout the year. So now we know we might be able to promote weight loss books and earn a commission because there is a demand for that.
Using Buyer-Intent Keywords
The user-intent of the keywords is important. We need to make sure we're validating the market has buyers.
We could also type in something like 'weight loss course'. The interest has dropped down but there is still a healthy amount of activity.
We can use other words like 'book' and 'course' like 'plan' to find more trends.
What I recommend is that you focus on 'book' and 'course' so that you can create content around those words like a review piece on the best weight loss courses. Then you will have a chance of getting that ranked for your specific sub niche easier than if you were to go for just the short key words 'weight loss'.
Finding Affiliate Products To Promote
Now we know that there is some level of market demand for these types of products so let's go find the products. To do that we have to look at a bunch of affiliate networks so I'm going to run through a list of the ones that I recommend you start with right now.
The first one we are going to look at is Clickbank.
It's probably one of the biggest marketplaces for affiliates. It's huge and it has an enormous amount of data that we can use. I'm going to show you how to find products that are selling on Clickbank.
Then in addition to Clickbank we can look at ShareAsale, OfferVault, and Commision Junction. There are tons of affiliate markets out there and I'm here to show you some of the best. 
The reason why we sell digital products is because the commission rate is so much higher and the demand for digital products tends to be higher.
For example we'll go with Amazon associates and that will give us a maximum affiliate commission of around ten percent. It is going to be considerably lower than digital products. With digital products you would expect a commission rate of up to seventy five percent. It's really a no-brainer and your customers are going to receive more value from digital products.
Let's head head to Clickbank and show you how to find products that you know are selling.
Deep Dive Into Clickbank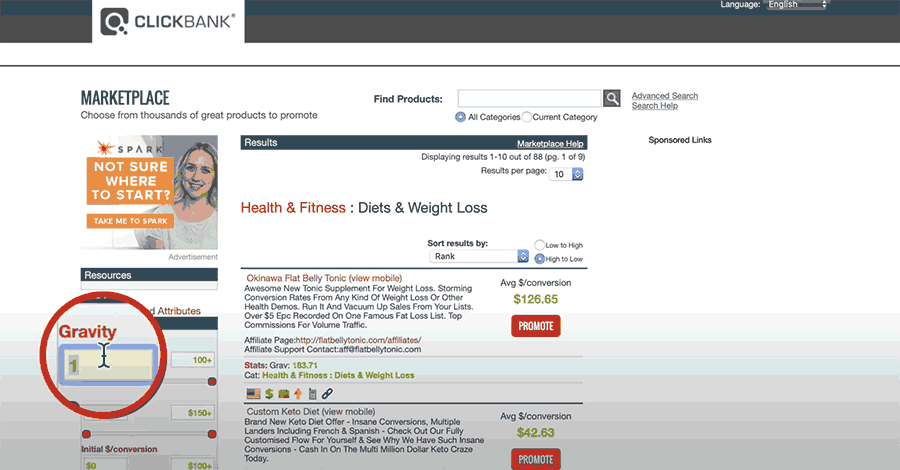 On the left hand side of the Clickbank marketplace we have a bunch of different niches and these are predominantly digital products.
Let's have a look at some products that are available, and let's go with health and fitness. If we look at the options in the drop down box we can find something that is going to be of interest to our sub niche so 'men's health' or 'diet and weight loss' for our example.
When we click 'men's health' or any other option there will be a list of products that are for sale.
We can look at the average conversion to see roughly how much we would expect to make. Just because a product may have the highest dollar conversion on the page it doesn't mean we should automatically choose that product to promote.
Thinking about the bigger picture long term we can probably make more money if we choose something with recurring billing.
On one of these products the average conversion is $32, however there is an initial rebill of ten dollars. Over the course of a year we can probably make more money with that one than the product with a higher average conversion.
Not only do you get a recurring payment, it is also an easier sale. Selling a product that is worth $100 is going to be harder to sell than a product that is $32.
However there are so many variables involved we can't really make cut and dry statements like that and expect it to remain accurate.
Without looking at the variables involved and looking at the data we're really just working on guesswork here. Instead of making guesses we can use these filters and change the gravity. The gravity is an indicator if the product is selling in the last week.
We can change the gravity to one so we know that all the products generated are making sales.
Another tip on Clickbank is to look for affiliate pages.
Done For You Affiliate Materials & Swipes
Some vendors provide dedicated affiliate pages, containing marketing materials and swipes that you can use however you like.
But not all products will have affiliate pages and not all of them will be really good pages.
What the good ones tend to have is a bunch of swipe material, email banner ads, and some of them will even give you review copies of the product so always look at those affiliate pages.
When you are looking at these pages you need to look for resources because that is what we want to use when we are promoting their product.
That's Clickbank in a nutshell.
More Affiliate Marketplaces
Let's look into other marketplaces, but we're not going to delve into too much detail on all of them. I just want you to be aware that they exist.
The next one is ShareASale which is very easy to use. Here you can find a whole heap of offers in a bunch of different niches. Take some time to explore that site.
Next we have OfferVault and again you can type in a bunch of different niches and see what comes back. It will tell you the payout, the type, the category, the network it is running on, and when it was last updated.
Next we have cj.com formerly known as Commision Junction.
They have probably one of the biggest affiliate marketplaces on the planet. These guys have been around for a long time and I recommend that you check it out.
No matter what network you choose or what product you choose, you always have to continue to research new products and new offers.
You have to continue to provide the things that are of interest to your audience. So you have to survey your audience every three months. A good tool to use to do that is called Survey Monkey.
They have free options available so you don't have to spend anything to get up and running. When you sign up for a free account you will be able to survey your audience for at least every three months.
You can even survey people on Youtube! Through these surveys you can find out what your audience needs.
Now I'll show you some of the offers that I like to promote.
Affiliate Products I Promote
If you're not sure where to start, I'll share some of the affiliate offers that I promote, so you know they sell.
Why I like to promote these outstanding products is because I've used them all in my journey and I know they are the best in the business.
The first one is Aweber because I used it when I first started my affiliate marketing journey and found it incredibly useful.
ActiveCampaign is the service I moved onto after Aweber, because I needed more advanced functionality.
Kartra is the all-in-one funnel builder I'm using at the moment, which is the most powerful system I've ever used.
SiteGround is reliable for website hosting – I'm happy to recommend it because I've been using it for years.
Themeforest is where I buy most of my WordPress themes from, and I've never been disappointed by their service.
What's Next?
If you like the idea of making passive income online you have to check out what my student Charles does.
He is now making a full time living from affiliate marketing and you can get the blueprint he used for free when you go to profitcopilot.com/180.
Remember to follow the criteria when you are choosing products to promote and always to consider all of the variables of those products. When you do this you have a better chance of finding products that will profit you.