This is how to get website visitors for free. This experiment generated 50,000 unique visitors to one of my niche websites, in less than 2 weeks.
I'll show you how. Today you will learn:
A new, effective website traffic generator
Results from a traffic experiment
How to get laser-targeted traffic
Powerful backlink methods
Methods that establish you as an authority figure
Why Listen To Me?
If you want to do 'offline marketing' stuff, then honestly, I'm not the guy for you. I suck at offline marketing.
But what I do know is digital marketing. I've been at it for 20+ years, so it's fair to say that I have a bit of skin in the game.
I've been self-employed with an online business since 2004, and build my hobby site to 4 million hits a month, in 3 years.
That's why I started Profit Copilot, where I lay out my 20 years of expertise and share the methods that work.
The Proof

In Google Analytics, I can verify that I've had over 50,000 unique users visit the website…
In only two weeks.
But look at day one, nothing.
Second day, same as the first…
But by the third day, over 2,000 visitors a day.
And on the fourth it jumped to 5,000.
By the end of the first week, we were sitting at 10,000 a day.
I did this with a new website in a new niche.
And I did it to prove that anyone could achieve these results – as long as they were willing to put in the work!
But don't worry, my skeptical friend. Anybody could use bots and send them to the site and call it organic traffic.
Well, let's debunk that.
Going by the location tag in Analytics, in the United States alone we had 32,950 users come to the site.
In Canada, 4,461 users.
UK, 4,257 users.
Then if we travel down to acquisition and structure it by the most popular channels, we have:
Referral at 34,010
Direct at 7,993
Social at 5,033
Organic at 2,837
The organic traffic, which I wasn't expecting to get that much of, is due to QDF (Query Deserves Freshness).
The Research Phase
To begin with, driving traffic is always going to begin with quick content creation. There's no point in directing people to your website if you don't have anything to show, right?
To drum up some quick content, we do the following:
Pick a niche
Get vital info from multiple sources (stats, data, quotes)
Type up a hard-hitting article
Create a powerful headline for that article (bonus points if it triggers emotion)
For example, let's look at the survival/ doomsday prepper niche.
We'd head to Google, search preppers, and what I look at is all of the related keywords, what people are talking about in the niche, and all of the data and stats from multiple different sites.
Next I gather as much newsworthy data that I can find.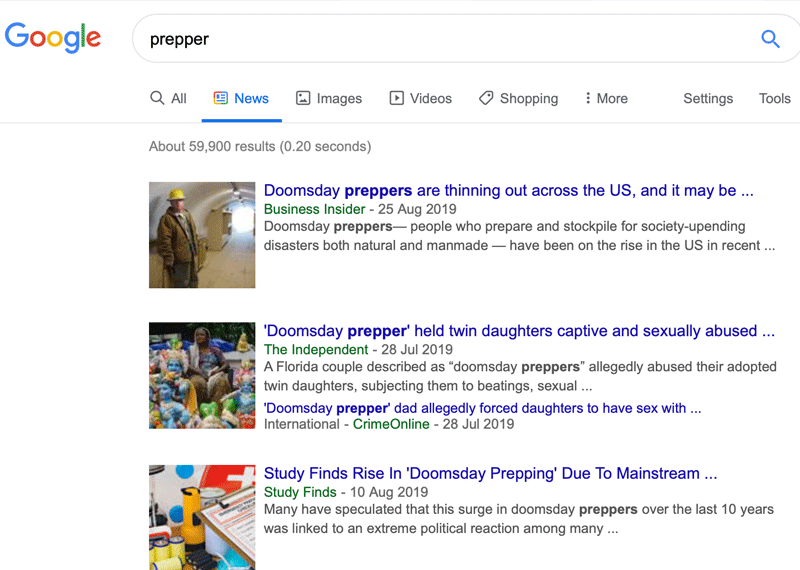 I also use Buzzsumo and run searches through there as well. Be sure to check the influencers tab so that you can gain more sources, as well as check out all of the big names in the niche.
Once you've got all the ingredients, you compile them and throw them into the pot to create your high-impact article.
There's going to be plenty of original content in the article based on your findings, as well as a few dabs of reference from a few historical articles here and there to add more credibility to your work.

The Marketing Phase
Now, we're moving onto the next stage.
You've done your Googles, you've gathered all of the material that you're going to use in your article…
And you've written a hard-hitting article, chock full of great content from a myriad of different sources.
The different sources part is important, why?
Because now, you're going to be doing the following:
Contacting, tagging, tweeting, reaching out to all of your sources that you used
Listing the websites relevant to your niche
Finding sites that links back to them (Moz Link Explorer is a great free tool)
Submit the article
Use boolean search strings (Niche + submit news)
This is the promotional stage, the stage where you're blasting out beacons and putting your content in front of everyone's eyes.
Use everything at your disposal.
Go through the list that you've made and hit people up on Facebook, Instagram, Twitter, their emails, tag them in posts, use every tool at your disposal to open a line of communication between you and all of your sources.
That immensely popular blog post that popped up in the top three when you searched on Google? Someone was responsible for it, behind the scenes.
And your job will be to get in contact with them, with the goal of getting them to take your content and share it with their audience.
Think of it as a conversation starter, a way to get your foot in the door.
It's also a way of asking for permission, even though you don't really need to since you're only using a small portion of their content.
Be mindful, however, that all of them won't agree to it, and that's okay.
Because when you find the ones that do, it'll be a two-way street, due to you driving traffic to them by using a bit of their information, and them enjoying your content and sharing it with their audience.
Then you'll use Moz Link Explorer, a free tool to find the sites that also link to your sites from your list.
You can take it a step even further with boolean searches, which would go something like this:
Go to Google, type in your niche followed by + submit news to find websites that are practically asking you to contribute content!
Not only that, you can also use:
Niche + submit url
Niche + article submission
Once you do these, remember to get your site credited as the source, and that's how you end up with powerful backlinks that direct the new traffic back to you!
Then, all that's left is to post it around on all of your social media accounts. Remember, the name of the game is putting your work out their in front of eyes who want your content, so don't be afraid to share it!
Now this is an effective strategy, but it's only one strategy.
That's why I have profitcopilot.com/traffic available, with plenty of more videos to help you along the way.
And the best part? They're all free, so there's no money coming out of your account to learn!