This is how to build an email list for free, from scratch. Building an email list is vital for success online because it gives you constant supply of traffic to your affiliate links, to your products, and to your websites whenever you need it.
So today you're going to learn how to build an email list for free, but the thing is you already have an email list, and that's because we're going to tap into your existing resources.
And you're probably thinking, 'what are you talking about? Mick, of course I don't have an email list!'.
Well, I promise you, you do.
I'll tell you more about that in a second.
Build Your Email List Backwards
For the moment what we're going to focus on is the entire process.
We're going to convert strangers into subscribers, because that's really when you start getting growth and that's when you can really scale things.
So we need to work backwards. We're going to start with your email list, first. Let's say we've set up your email list (I'll show you how to do that in a second).
Then we create a landing page.
There's one practically already waiting for you and I'll show you how to access it and edit it in a second.
It's very easy.
So by the end of this tutorial, we'll have a landing page and we'll have an email list.
And once we have both of these things working, we need to start sending traffic to the landing page.
Email List Traffic Sources
Take a look through all my previous articles and videos to see more traffic methods.
And when you implement those methods, you start getting affiliate traffic that you own and control – and that is where you will really start making the money.
I showed you how to get traffic from Pinterest. We looked at solo ads, and we looked at using YouTube for affiliate marketing. We also looked at using eBooks.
We're going to use another version of an e-book later on in this lesson.
We can also get traffic from Facebook. Facebook is a goldmine if we use it in the right way.
Personally, I'm not a big fan of Facebook. I think it creates more problems for society than it solves.
But with that said, my clients tend to like Facebook, so I know how to drive traffic from it.
I'll show you how.
And then finally, you can get traffic from Medium.
Now, while we can use all of these to drive traffic, nobody is going to subscribe just because you tell them.
You need a reason to get them to subscribe.
A Reason To Give Their Email Address
They have to really want to subscribe, because their email address is a form of currency.
People will often just put in junk email addresses… I've done it, and I bet you have too. Just typing random letters or numbers, to see if you can get beyond that gated page.
So you need to give them a really good reason to want to give you their genuine email address.
And listen, if we're using double opt-in emails, then they have to subscribe. That means they have to confirm their interest before they receive your content.
This is how you give them a really good reason to subscribe; it all starts with your content.
You have to know the customer journey to make this work.
The Customer Journey
Your content has to serve a purpose. Look at your content as the first milestone that they need to complete on their journey.
Does it helps them to complete that milestone or move further along that journey? We need to move them from your content, over to your landing page.
In order to do that, we have to focus on the area in the middle.
That's called the gap.
So we focus on the things that will help them and that will help move them forward on their journey.
And the content does that through addressing a few things; the easy way to do it is to just focus on the steps that they need to take to complete that first milestone.
Which then brings them to the next milestone on their journey.
That's where your landing page comes in it – it talks directly to that need. And that is how you get them to really want to subscribe to your email list.
So as we continue to move them along their journey, we're delivering more value. Now, you're at the stage to get them to opt in, you do have to give them a freebie to entice, which we'll talk about in a second.
But get your head around this concept; we are delivering value and we're really thinking about their needs.
That means we're not thinking about trying to sell anything, we're not being obnoxious and we're only here to help – the selling comes later on.
Your Ready-Made Email List
Now, I said at the beginning that you already have an email list.
Sort of.
What do I mean? Well, if we go to Gmail, we can go have a look at your contacts.
We can dive into those and start to re-engage those people. Or we can drill down even further into 'other contacts'. You can then approach these people and then invite them to your landing page.
But avoid just exporting all of those people into the email list. We don't want to do that because the of law. We want to be good, honest and ethical marketers.
What we do is we approach a contact, and say something like "hey, I'm working on a new project and I think you might be interested, check it out here". And you invite them to your landing page that way.
Now for security reasons, I've blurred out the contacts in my Gmail, but you can click on 'Other Contacts, add these to a new group and then export the group.
So now you can email people based on our previous contact with them.
The important thing to know here is we're not exporting these directly to a brand new email list.
We're not uploading these to any other service or sharing their details in any way. We're only asking them to opt in.
That's really important.
So let me show you another way to use Gmail.
Click on the cog icon and you'll get an option to 'See All Settings'.
If you click on that, now you can add a signature to your Gmail. So every time you send an email out you can link to your landing page. I'll show you how to make the landing page in a second.
So on the settings page scroll down towards the bottom and look for 'Signature'.
Give it a name and click 'Create'.
You could add a link to your landing page and type something like "P.S. Check out my new free cheat sheet on how to _____".
Building Your Email List For Free
We're going to use Aweber (affiliate) because it's the most welcoming of Email Service Providers (ESP) for affiliate marketers.
You get the first 500 subscribers for free, and you should seriously be making money with way less than 500 subscribers – if The offers that you promote are relevant to the interests of your subscribers.
As an example, I'm going to set this up for one of my friends, who's getting into this kind of stuff. So I'm gonna use her details.
So let's set up an account. There's three steps involved.
So step one is to fill in your, your company, your name at your website, at your name, and make sure that your address is accurate.
And I click next step two is to give your list a name so we can have multiple lists. So we might be running different campaigns, have different purposes for different lists.
For example, you could have a pre-launch list, or you could have a buyers list. So we can segment lists, which we'll speak about later on.
And then you give your list of description – this is really for your benefit, so you remember what the list is about. And then select your language.
Improve Your Email Open Rate
Then we have a subject line setting and this is going to ask people to confirm their subscription. This is only applicable for a double opt-in email – which I recommend because it will cut down the amount of spam sign-ups.
This is a very important choice to make, because while we can use a flat bog-standard non-personalized subject line, it might not be the best approach.
We can have add a variable here, which is the prospect's first name.
I recommend that you go with the personalized option so that will increase your open rates.
However, be aware that in some markets having someone's name in the subject line isn't always the best way to go.
For example, in political niches it can create privacy issues where people might feel a level of distrust.
So the best course of action here is to really split-test it.
But I recommend starting with the personalization options, see how you go monitor your open rates because when someone sees their name it's going to get their attention.
Underneath the subject line setting we have a preview of the message. You can click to edit that.
Now, what I recommend you do here is again, add another variable and keep name in there. And also add it to the first line of the body of the email.
The benefit of having this level of personalization inside the email is it tells spam filters like Google and Hotmail that this is a real email address belonging to a real person.
That increases your chance of landing in the inbox, as opposed to the junk or spam or promotions tab.
And then I would leave all the rest of the settings as default.
Avoiding The Promotions Tab
I know when it comes to adding a signature you might be tempted to add in links to your social media profiles, or link to products. I strongly encourage you to resist that temptation.
The emails that we send out have to appear like they're coming from a real person.
If Google suspects that emails are coming from a company, then it will move them to a promotions tab. And that's going to lower your open rates.
So you need to keep your emails very basic, limit the number of links per email, and don't link out to any social media profiles.
Making Your Opt-in Form
Now you're almost ready to start adding subscribers to your email list.
Next we need to make sure that we have the right forms.
So click sign up forms the first one, called 'my web form'. Here we can change the copy, and play around with things. If you scroll through, you're going to get a range of different types of templates to use.
In my example, I'm going to keep mine pretty basic. But I do encourage you to really spend some time with this.
Here's a copy tip; we want to give them a really good reason to subscribe. I'm going to say something like "grab your FREE cheat sheet on how to A, B and C", which each one being a benefit.
We can take this a step further by calling-out their pain points, "how to A, B and C without X, Y or Z.
So now we're giving them a way to gain three benefits, without any of the pain.
A Strong Call To Action
Next the 'Submit' button. So I want to change the copy on this because the word 'submit', is not really a strong call to action.
We want it to say something like, "yes, I want to A, B, C". Or even just have one really strong benefit, "Yes! I want to change my life" or "Yes! I want to lose weight", or whatever is relevant to you.
And when we put things in first person we should see an increase in opt-ins.
Play around with the Aweber template and get rid of any distractions on the form, because we want to make sure that the landing page only contains the information that we absolutely need.
Now, this is really interesting because if you have a website of your own, I would encourage you to send them to a custom page.
That thank you page could make a one time offer, and that will increase your sales overall.
You should see at least a 1% conversion rate on that page. So for one, in every hundred people land on that page, they're going to grab that one-time offer.
In fact, the truth is if you're doing things right and you're using strong copy and you're approaching a highly targeted audience, then your conversion rate is going to be a lot higher.
If you don't have your own website, then just go stay on a current page, that's fine. Keep this as 'Basic'.
If you want to delve a bit deeper or go to advanced settings here, you can.
You can add tracking if you want to. And you can decide on the start message. If you don't know what all the stuff means, don't worry about it.
Your Landing Page
Aweber will give you a hyperlink to send traffic to. That is your landing page.
Yeah, it looks really basic and I know what you might be thinking.
With people selling software like ClickFunnels and Kartra and all these funnel builders, am I really telling you that a basic little form can get results?
Yes. I promise you it can get good results.
You do not need to invest in any expensive software to do well on the Internet.
Let me show you an example.
So the chap who taught me how to do a lot of this kind of stuff, is called Mike (yep another Mike) and he uses a basic landing page too.
You see, I ignored email marketing for years until I met this chap. This is one of his websites.
Mike knows exactly what he's doing and he is probably one of the most knowledgeable people I've ever had the privilege to meet.
And if it's working for Mike, it's going to work for you too.
So don't worry too much about any of these funnel builders that come along.
Making A Lead Magnet
Earlier I said that we need to use a free gift, or lead magnet, to entice people to subscribe.
So how do we make this free gift that we give away?
Well, let's head over to Canva.com and because can create all types of really cool stuff for free.
If we go to the search bar and we type in 'report', it's going to give us some free templates that are perfect for lead agents.
So click on whichever one you think represents your business.
Now, some of these templates are free and some of them are premium. You just going to have to spend a bit of time to figure out which is which.
And each template lets you add and remove pages. So our one is going to be a free PDF that we give away to every person who subscribes. We have to make sure that it's really short and sweet. It needs to just get to the point – we want to avoid giving away long-winded 30 page eBooks.
This is all about delivering results, quickly.
I encourage you to map out the big steps that your audience needs to take, in the order they need to take them, to achieve a specific result.
And now you should be left with a document that is really clear and short, sharp to the point.
Monetize Your Lead Magnet
We can monetize your lead magnet straight away.
At the end of each step you can give them a way to get more info. You can monetize that by linking to an affiliate product, as long as the product is relevant to that step.
So we can add links in here as well.
Then your lead magnet is ready to download. Set the file type as 'PDF standard so it's a smaller file size.
Now it's going to cost you less in bandwidth and hosting fees.
We'll talk about where to actually host this in a second because once you've downloaded your PDF, what do we do with it? Where do we put it on the internet?
Uploading Your Lead Magnet
We have got lots of free hosting options.
If you just Google something like "free file storage", or "free upload space", you're going to find a few free options. However, if you want to do it properly and you don't have your own website, we can use a service like AWS.
AWS is cloud hosting from Amazon.
It's dirt cheap so we can host on here for literally pennies.
I have used this to host gigs and gigs and gigs of video content.
And every month, I think it costs around me something like a dollar. If you're just hosting a single PDF, it's going to be practically nothing.
In your ESP, make sure the first email of your campaign has a link to the PDF. So the second someone confirms their subscription they receive that link.
Build Your Email List With Facebook
Earlier, I mentioned using Facebook.
So here we are on my Facebook profile. If you look at my Facebook profile you'll see that I don't use this very often. I only post maybe once or twice a year on Facebook, but that's just my personal preference. You might want to use it more.
So let's drive traffic from Facebook.
We've got a few options. So first one; have this banner image at the very top.
You could is replace that with a striking image that has your website address, or the address of your landing page, you can even put a Bitly link there instead.
The point is you ask people to take action.

The cool thing is when someone clicks your banner image, it opens up a description box. Again, you can link to your website from there.
Also, you can pin posts to the top of your profile.
So what you can do is put a link to your landing page with a strong call to action, and then pin it. That means anyone who visits your profile is going to see it immediately.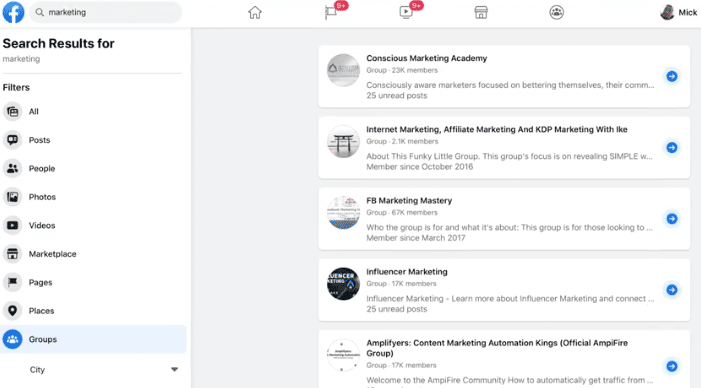 Another little tactic is to search for relevant communities and groups.
You can also apply a filter to this, so you can decide to view only groups from your local area. I would encourage you to investigate the groups before you join and make sure that they are active because there's no point unless there is a community there.
Obviously follow the rules of each group.
It's generally considered bad form to join a group and then start spamming your links. Instead, contribute useful content, and invite people to become your friend, then you can market to them via your profile.
Lazy Email List Building
Let me give you one, one more tip.
This is going to make lead magnet creation really quick and easy.
If you go to Google and search for PLR ebooks, you'll find whole heap of sites that let you buy can buy ebooks that you can legally edit and give away.
Now, instead of just buying one an giving it away for free, break it up into smaller pieces of content.
Let's face it, nobody is going to read a 32-page ebook that they got for free. It's just not going to happen. Right?
But they will read a top 10 list, or a cheat sheet. So break it down and then use the rest of the content for your emails. So this way you can get more from less.
Then you can drip feed the content through an email sequence. And in those emails, you can add affiliate links.
What's Next?
The real key to building a successful email list from scratch, is to be consistent.
And just like any other form of marketing, if you're consistent then you can get amazing results.
Like my student, Matt. He's making millions of dollars online, thanks to my training.
So if you want to know the secret and you really are serious about building an email list, then you're going to need more web traffic. So I will give you the secret traffic methods that I never share anywhere else completely for free when you go to profitcopilot.com/traffic.