Today is all about email marketing on autopilot. Its part 5 of the Profit From Your Passion series.
So, we need an autoresponder for this, and there are 2 that I can recommend.
They are ActiveCampaign – which I am currently using and then we also have Aweber – which I've previously used for almost 10 years.
I'm gonna talk you through the pros and cons of each one so you can decide for yourself which one you should go with.
Now, do you REALLY  need an autoresponder?
I would say you don't need an autoresponder but if you want to make your life a whole lot easier, then yes.
This is where the real power of your website is. It's how to get it running on autopilot.
It makes sure that you don't have to manually email everybody who subscribes.
Listen, I've done it both ways. Back in 2009 I had a lead magnet about SEO.
I built an email list and I was manually adding people. It was a nightmare, and one day there was a spike in traffic and an extra 50 people subscribed all at once.
I just couldn't cope.
So I would say definitely invest in an autoresponder if you can.
The two that I would recommend is ActiveCampaign and Aweber.
AcitveCampaign
ActiveCampaign is great if you are doing value based campaigns.
If you're creating content on a regular basis and you're not worried so much about the affiliate marketing side of things, this is the one to go for.
There is a slight learning curve involved and it's slightly more expensive than Aweber.
But it has awesome behavioural dynamic response capabilities.
Dynamic response is absolutely the future of email marketing – you cannot ignore this any longer if you want to stay competitive.
Aweber
The other autoresponder we've got is Aweber.
This is really good if you are promoting affiliate offers.
So if you're more about just pitching offers then Aweber is the one to go for.
It's easy to use but there is little behavioural dynamic response on the platform.
And I think that's a crying shame, it's actually why I left Aweber.
They don't have many automations and the ones that they do have are very buggy.
That's the main difference between Aweber and ActiveCampaign so you can decide which one is right for
you.
Make your first automation
Because I'm using ActiveCampaign I'm going to show you how to get set up with that.
So here we are in the dashboard we've gone to 'Automations', we're going to click new automation
I'm going to hit 'From Scratch':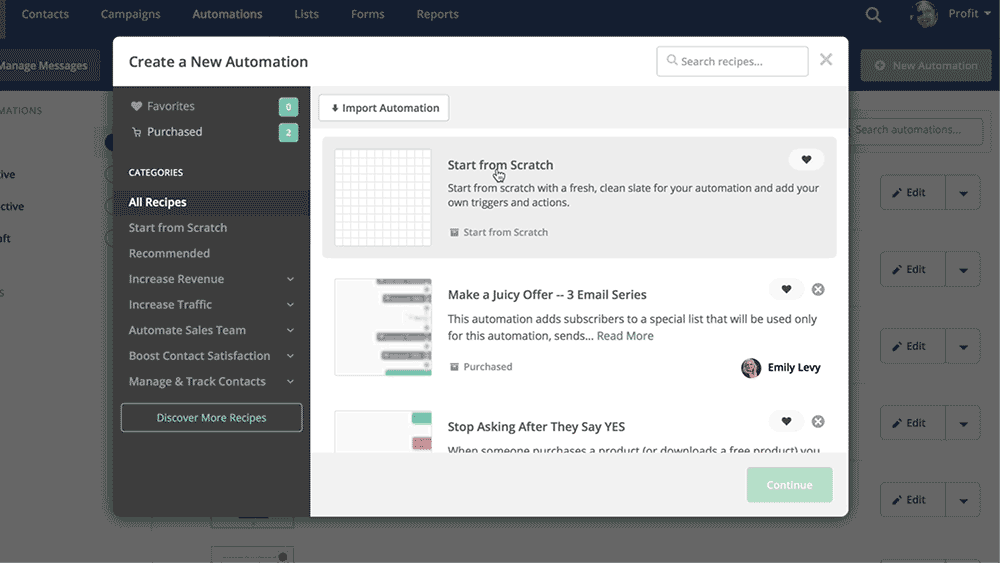 So here we've got some options.
We can trigger an automation when someone subscribes but I'm not going to do that.
What I'm going to do is choose 'Tag is Added'.
And that's because we're going to have multiple avenues into the list and all of those avenues will be a specific tag.
Remember during the squeeze page set-up we added a tag called 'Detox PDF'?
So what happens when someone subscribes to this email list with the tag, we're gonna send them a welcome email containing a link to the lead magnet.
Make sure your email has some personalisation, like their first name, and tell them what to expect from your list.
If you can make the email look as natural as possible and avoid the corporate look.
Try to make emails look and sound just like you are emailing a friend.
The purpose of this is to just run you through a basic automation process.
Later on we inject high tension and drama into the email sequence to get your subscribers hooked.
But today is all about the mechanics of getting you up and running fast.
You automation should look like this now:
And that's about it.
Fairly painless, right?
I've given you giving you a fair bit to think about in this and I want to call it a day so you can just get cracking and get up and running with your very first welcome email, that will run on autopilot.