I'm gonna show you how to get instant traffic to your website and then I'm going to show you how you can capitalise on that traffic by using the correct type of sales funnel.
Today is all about media buying.
There's a lot to learn so I'm going to simplify it and make it really easy to understand.
3 Columns of Paid Traffic
When it comes to paid traffic sources we've got really three main contenders:
Facebook Ads
Solo Ads
Media Buys
When you first starting out with digital marketing (if you've been around a while then you'll have experienced this), it's tempting to try lots of different traffic sources but that's not the best approach.
For best results, you'd usually start using one of these columns until you gain mastery in it before moving on to the next one.
Facebook Ads
Most people will start with Facebook Ads because when it comes to targeting, it's precise and it's still the best option for paid traffic, but you do pay for it – the clicks are expensive and that is only going to increase in time.
Solo Ads
Then secondly we've got solo ads and these are really good if you want to build your own email list.
The traffic that you get is still targeted, but it's not quite as targeted as Facebook.
You will be able to target the people who are generally interested in your niche but of course you won't be able to drill down and target if those sub-interests.
Media Buys
And then, the third column that we've got are media buys.
This tends to be mass market so it's less targeted and you have to try to appeal to wider interests.
When it comes to media buys you really want to use top of the funnel content – and I'll show you how to do that in a second.
But first what is media buying, exactly?
What is Media Buying?
We use native advertising networks to buy space on other websites, blogs and news websites.
On sites that offer media buys, there's a little section at the bottom of each article – and you've probably already seen them before.
When you scroll down to the bottom of an article you'll see a section that looks like content on that website, but in fact it leads to a third party website.
Most major-league websites sell media buying space, like most big news organisations and high-traffic sites.
There are a whole heap of companies like that provide media buying space on high profile websites; Outbrain and Taboola are the most recognise but if you type 'native advertising network' into Google then you'll find a lot of companies that allow you to buy advertising space fairly cheap.
Once you're all set up, you'll need a way to profit from all that traffic.
The Media Buy Funnel
I'm going to talk you through the media buying funnel.
As I mentioned, you'll want to use your top of your funnel content when using this strategy.
A typical funnel will work like this:
In this example, you'll have an article on, say Fox News, and at the bottom of the article you'll have the media buy sections that link to your website.
A visitor lands on your site, they read your blog post and from there you can direct them to your sales page.
That is a basic funnel for media buying.
The reason you have your a piece of content in the middle between Fox News and your sales is because if there are any problems with your offer there is no comeback Fox.
All they have done is send traffic to your piece of content – and the selling takes place another step away from Fox.
But we can improve this media buy sales funnel little bit: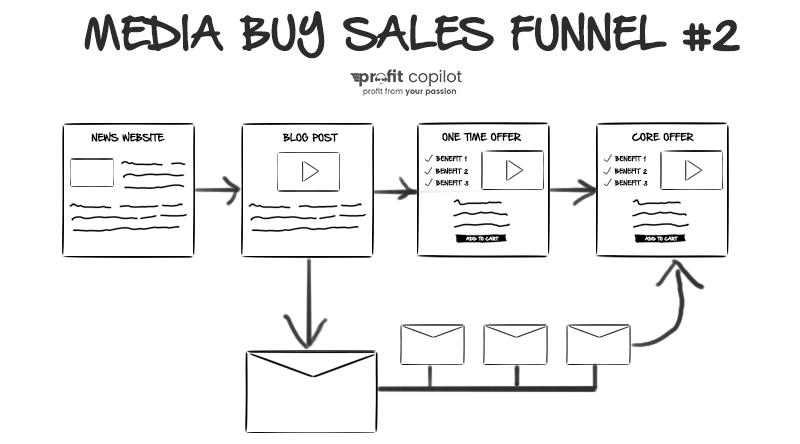 So what we might do is; when you advertise on Fox News or equivalent, you drive traffic to your piece of content and actually inside the blog post you have some way they can subscribe to your email list.
Maybe in this example you're going to use a content upgrade.
Then immediately, as soon as a visitor subscribes to your email list, you present them with a one-time offer.
And then your core offer.
That is a more sensible way of doing things.
This way you're a capturing them as a lead, instead of asking them to buy from you just once.
So now that they are on your email list, if they don't buy your one-time offer or your core product, then you can send them into nurture sequence where you can send regular emails, begin to warm them up, and then start selling to them again once they've got to know you a little bit better.
Media Buy Tips
There are a few things to remember when using media buys.
They won't accept straight adverts or squeeze pages so you have to send the traffic to a good piece of content.
So don't do the selling on that page, use it as a way to warm up the traffic – maybe make them aware of a problem or give them some actionable steps.
Don't give them everything on this page, provide just enough info to whet their appetite.
And then tell them how they can get more of your content, use that as a way to get them onto your email list.
So obviously you'll need a blog for this.
If you've been following my videos and my podcast and blog posts, you'll know that for a long time now I have been encouraging people to start their own blog.
This is one of the main reasons why.
The Future of Advertising
I believe this kind of marketing is going to be the future of advertising.
Using top of the funnel content to deliver value to your audience, to warm them up and bring them further into the sales experience is the way to go.
Delivering absolutely value upfront, even before asking your visitors to take action (such as subscribing to your email list or buying your product), helps the sales process feel like a natural evolution instead of forced.
If you haven't done it yet, go set a blog set up in anticipation, and preparation, for the new way to promote offers.
It's probably going to come a lot sooner than you expect, because at some point in the very near future it will be expected that you promote your content first, instead of your offer.
Limitations of Media Buying
Secondly, remember that with media buying you have access to a mass market.
That means you've got very limited targeting.
Industries like weight loss, financial services, and dating tend to work really well, but don't let that limit you or stop you from trying things out.
You can have success in other niches, but you'll need strong copy and your headline is gonna have to be killer.
When you have all these things in place, content that delivers value, and a funnel that's ready to capitalise on the incoming traffic, you can profit from it very quickly.
But just like everything else, it takes time to figure things out probably and to become a master at it.
You're gonna have to test, tweak, and fine-tune it as you.
If you don't get the results you want then change it and try something else.
Imagine the process like trying to tune in a radio.
You're trying to find the right signal, and when you hit on something you'll start getting the results that you deserve.
I'm gonna leave it there for today, if you've found this useful then share it with your network.